Webinar | On-Demand
Scaling at the Speed of Skills
Featuring:

The business landscape is changing faster than ever before. Faced with a pandemic, great resignation, great rehiring, and workforce transformations, organizations are rapidly recognizing that to outperform the market, they need real-time, granular insights on the skills of their workforce and workforce at large. Simply understanding the degree of skill match for an employee or candidate to a role is no longer enough.

Join guest speaker Forrester's Principal Analyst, Betsy Summers, for this eye-opening webinar. Ms. Summers specializes on the Future of Work and will address the "why," "how," and "now what?" of evolving from job-based to skill-based.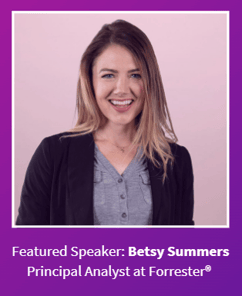 Why?
Why do old-school competency models no longer work?

Why is it imperative to know the granular skills of your workforce, your competitors, and the labor market at large to remain agile?

Why is skills intelligence so crucial in emerging use cases?
How?
How do skills technologies work, and what's on the frontier?

How does AI play a role in unbiased DEI workforce planning?

How do current solutions differ, and what should I be mindful of?
Now What?
What are the best practices in rolling out a skills intelligence solution?

How should I manage a "single source of truth" in our ecosystem?

How can we measure and validate that we're doing the right thing?


JOIN US, ask questions, and benefit from actionable takeaways.
By registering you will receive a link to the recording.
About SkyHive
With the bold mission of global reskilling, SkyHive is known for providing leaders with skills-based talent insights using the most comprehensive, real-time labor market data set in HCM. The company pioneered Quantum Labor Analysis®, which delivers relevant, outside-in labor market data and skills information, on demand, to enrich employee skills profiles, facilitate strategic talent decisions, and support skills interoperability at scale. If you are ready to take the next step in your skills-based journey, schedule a demo to see how easy it can be to transition from jobs-based to skills-based at pace and scale.
SkyHive is a Certified B Corporation and generative artificial intelligence (AI) software company that rapidly reskills companies and communities worldwide. SkyHive is recognized as a top AI innovator by Forbes, a Gartner Cool Vendor in HCM, and a World Economic Forum Technology Pioneer. Leading enterprises use SkyHive's cloud-based applications, Human Capital Operating System™, and SkyHive's Quantum Labor Analysis® to power the future of work at its most granular level: skills. In addition, SkyHive has been recognized by the World Economic Forum, GPAI, RAII, and others for leading efforts in ethical AI and its positive impact on labor economies worldwide. For more information, visit www.skyhive.ai.